Charles Busch - Evolve Insurance Solutions
Who Is Evolve Insurance Solutions?
Evolve Insurance Solutions was started by Charles Busch after spending 11 years in the insurance industry working for both captive and independent agencies. He learned that not every company is a good fit for everyone and it's important to have choices. That is why we have partnered with Rock Realty and some of the biggest insurance names in the industry including Travelers, AAA, Safeco, Progressive, Acuity, Hanover, and many more!
Why Choose Us?
We believe that the customer is the most important part of our business and want to make sure they have a great experience from purchase of their insurance to filing a claim or servicing needs. As a new home buyer, we can offer many benefits including:
- Home Warranty Coverage
- Equipment Breakdown Coverage
- Under Ground Service Line Coverage
- Siding/Roof Restoration Coverage
Just to mention a few….
Let us help customize the best plan to fit your insurance needs keeping in mind your budget! CLICK HERE To request a quote or visit us online at www.eiswi.com. Good luck with your home purchase and this new change in your life!
Charles Busch | Principal Owner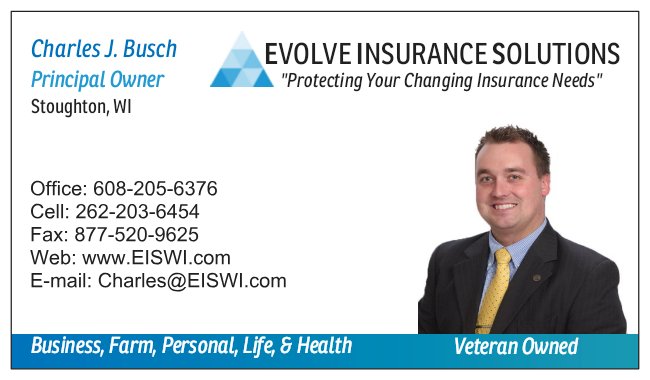 Evolve Insurance Solutions – Stoughton, WI
214 S Forrest St, Ste 2, Stoughton, WI. 53589